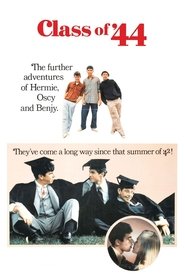 Class of '44 (1973)
Rated:
5.2
out of
10
with
3
votes.
Class of '44 is a 1973 movie directed by Andrew Laszlo, Paul Bogart. Sequel to "Summer of '42" reunites Hermie, Oscy and Benjie as they graduate from high school. Benjie departs shortly to war while Hermie and Oscy go on to college and experience fraternity hazings, cheating on exams, sex scandals and other unsavory college activities. Hermie grows apart from his childhood friend Oscy and begins a relationship with Julie that allows him to settle down into maturity.
Genres: Drama
Actors: Gary Grimes, Jerry Houser, Oliver Conant, Deborah Winters, William Atherton, Sam Bottoms, Murray Westgate
Director: Andrew Laszlo, Paul Bogart
Country: United States of America
Duration: 95 min.
Quality: HD
Release: Apr 10, 1973
Production: Warner Bros. Pictures
Views: 1.508