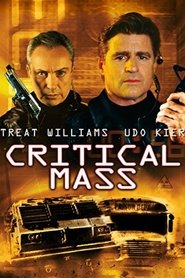 Critical Mass (2001)
Rated:
1.3
out of
10
with
4
votes.
Critical Mass is a 2001 movie directed by Fred Olen Ray, Randy Carter. Jeffers works security at a nuclear power plant. The plant is being decommissioned, and a politician is touring the plant and videotaping his comments regarding the closing. A terrorist group led by Samson gets inside the gates, with their ultimate goal the detonation of a nuclear bomb inside the plant. After local policemen and the other plant workers are killed, Jeffers and Janine alone must confront and halt Samson and his terrorist squad. Written by Ken Miller
Actors: Treat Williams, Lori Loughlin, Udo Kier, Blake Clark, Jack Betts, Richard Anthony Crenna, Charles Cyphers, Neil Delama, Charles Emmett, David "Shark" Fralick, Nathan Le Grand
Director: Fred Olen Ray, Randy Carter
Country: United States of America
Duration: 95 min.
Quality: HD
Release: Jul 04, 2001
Production: Mass Productions, Phoenician Entertainment
Views: 4.794